Okay, first thing is first; flavor. And boy oh boy is this dish packing it. Flavor, texture, visual appeal… I have checked all the boxes on this one. From luscious smoked pork belly, fresh oranges, grilled endive and an orange ginger vinaigrette, you will most certainly be begging for more. Seriously, my friends asked me to bring the leftovers home.
Speaking of friends, we are getting to my second point. I did a Messy Life, Messy Kitchen video for this one. And although laughing while drinking wine with my friends made this s truly enjoyable experience, it is slightly inaudible at times. If we sound like 4 minimally to moderately intoxicated girls talking over each other, that is because we are. As I continue on this journey of building the blog, myself, my brand and my food, I am learning. Each experience is quasi new. I have since ordered a microphone for my solo Messy Life, Messy Kitchen videos. But for now, you will have to take or shrill laughter with some ear plugs. But hey, smile, we were having fun. And you will hopefully get a few laughs out of it as well. And just in case you can't follow along with everything that is going on in the video (because I was there and even I can't understand sometimes); here is a toast to literacy. You can READ my blog post. 🙂
Back to point number one… the food. Squirrel. Food. Squirrel. FOOD. We have recently acquired a smoker. As such, everything simply must be smoked. And since for some strange ass reason, my husband is not a fan of pork belly, I cooked it when he was out of town. I already had a love for pork belly. But it grew the day I smoked this mother. If you do not have a smoker, you can do this in the oven. But if you do so happen to have a smoker, it is absolutely worth the labor of love.
Ingredients/Instructions:
Pork Belly:
3 1/2 (+/-) lbs pork belly
2 tbsp Thai chili paste
2 tbsp ginger paste
2 tbsp garlic paste
1 tbsp lemongrass paste
1/4 cup hoisin
1/4 cup soy sauce
1/4 cup rice wine vinegar
3/4 cup red plum jelly (for glaze)
1. I found my pork belly in strips. It is what my grocery store had. If yours is a solid piece, cooking times, etc will of course vary.
2. In a large freezer zip-lock bag (if strips, if not find something that will fit your pork belly) combine the chili paste, ginger paste, garlic paste, lemon grass paste, hoisin, soy and rice wine vinegar and shake/mix. (I use Gourmet Garden pastes. They can typically be found in the refrigerated section of the produce area.) Add the pork belly. Press out as much air as you can. The less air, the closer the marinade will get to the meat.
3. Marinade over night if possible. I would do a minimum of 2-3 hours. But since smoking takes time anyway, you might as well marinate the night before for optimal flavor.
4. When you are getting ready to smoke or oven roast your pork belly, do not dump the marinade. Combine the marinade in a sauce pan with 3/4 cup plum jelly, stir and reduce to make a glaze that will go on the pork belly towards the end.
5. Lets discuss the oven method first. Although this is not what I did, it is "quicker". So before you read through all of the smoking, we might as well address this. If you are baking your pork belly, place it on a silicone mat on top of a baking sheet. Cook at 425 for 30-40 minutes. Then reduce the temperature to 225 and cook another 60-75 minutes. Add the glaze the last 15 minutes. This is a general practice for cooking pork belly in the oven. So sue visual cues such as fat being rendered, everything looking nice and crispy, as well as an internal temperature of 165.
8. Carefully empty it into the side box and add some hickory (or whatever) wood to the top.
9. Add your meat to the main compartment and close that door. Don't even think about opening it for hours.
10. Over the 6-8 hours that I smoked, I had to add more lump charcoal and wood pieces to my box (that's what she said) 4 or 5 times. I kept my temperatures between 225 and 250. If your temperatures are outside that range, you will have to cook longer or shorter. Use common sense.
10. Smoke around 225 for 6-8 hours or until the internal temperature reaches 165. When you are about 45-60 minutes away from taking the pork belly off of the smoker, use a basting brush to coat your pork belly with the glaze you created from marinade and the red plum jelly.
11. Allow the pork belly to rest for 10-15 minutes before cutting it into thin slices.
Folks… it gets a hell of a lot easier from here…
For the Orange Ginger Dressing:
2 thumbs ginger, peeled
3/4 of an orange, segments (see visual under other ingredients)
1/2 cup olive oil
1/2 cup rice wine vinegar
1/2 -3/4 cup cilantro leaves
2 cloves of garlic
1/4 tsp salt
1/4 tsp pepper
1/4 to 1/2 tsp red pepper flakes
2. Add cilantro and pulse until leaves are small green flecks.
3. You may transfer to a lidded storage container for refrigeration.
Other Ingredients:
6 oz radishes, shaved
2-3 oranges, segmented
12-15 endive
cilantro, more for garnish
1. Halve all of the endive down the center from top to bottom. If you would like (I did) cut off the base of the endive first.
3. Repeat this process till all of your endive have grill marks.
4. Using a vegetable peeler, carefully strip layers off of the radish.
5. Last, we are going to segment those oranges. Begin by cutting the tops and bottoms off of the oranges. (And no, you're not crazy, the below images are a grapefruit. But I am recycling here people. I am busy AF.)
6. Cut off the rest of the rind until there is only pulpy flesh left.
7. Get as close the skin that divides the segments as possible, and slice on both sides.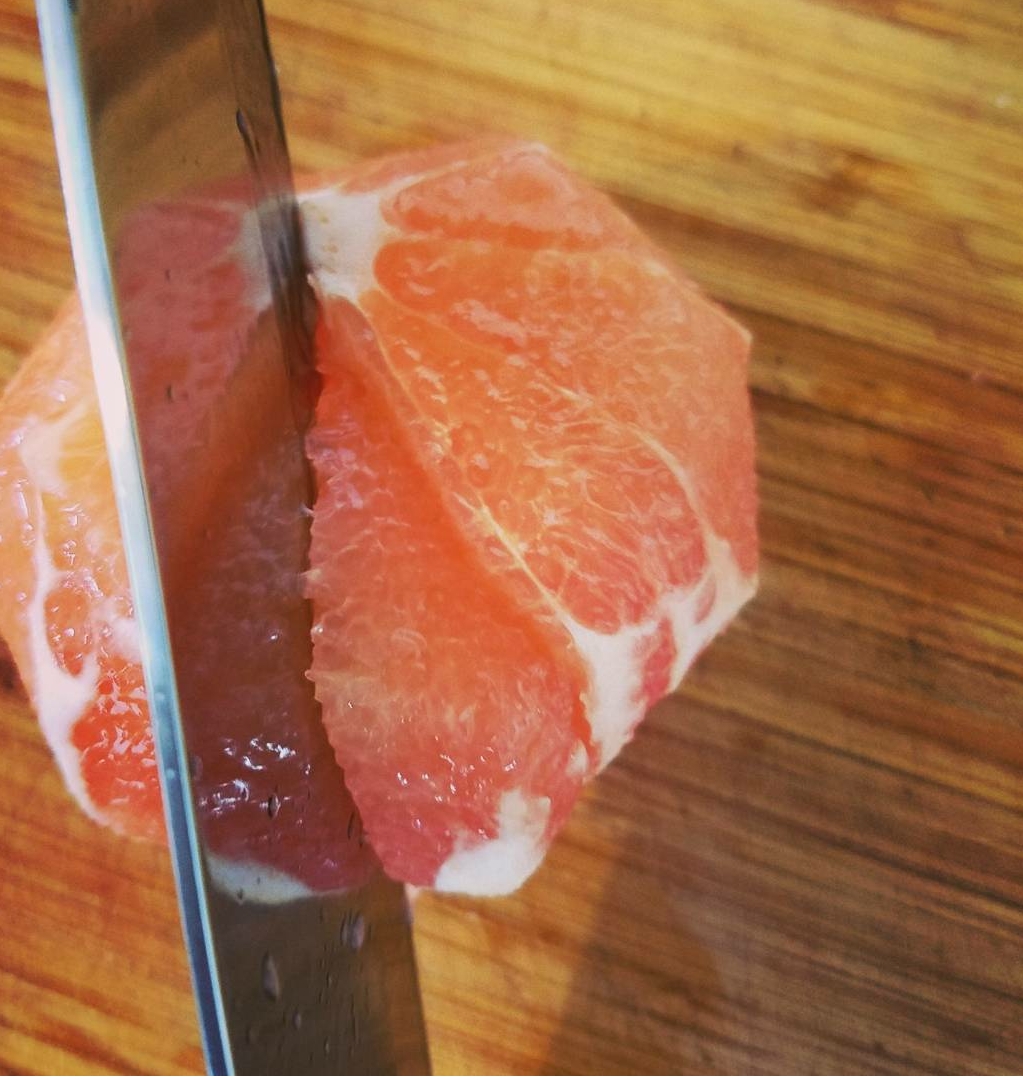 8. Repeat until you have segmented the whole orange. Or for this recipe, 2-3 oranges.
Putting it all together:
1. Begin with a base of endive, then add orange segments, sliced pork belly and shaved radishes.
2. Drizzle with dressing and top with extra cilantro leaves for color/garnish.
Enjoy… for real!